Product and Content Teams
​
Product Marketing Manager
Product Partnerships Manager
Content Strategist
Creative Director / James Phillips
Developer / Oliver Dooley
UX/UI Designer
Visual Designer
UX and IA strategy​
Leading effective discussions
Creating components and a design system
Rapid iterations and prototyping
Defining design principles
Close collaboration with the developer
Design documentation and ENG hand-off
Services Directory Refresh
A UX/UI refresh to the former YouTube Creator Services Directory website with the goal of a more streamlined user experience using its Search functionality.
A refresh keeping the purpose of the site in mind- Creators looking for service providers or Partners like music labels and media agencies looking to offer their services. Revisiting the users and their needs, the functionality of the current directory stayed the same but their experience is now more intuitive, the design is more flexible and the content is more reliable. The design adheres to YouTube's latest web standards.
A U D I E N C E P R O F I L E
S I T E A R C H I T E C T U R E
Color coded filters + chips
D E S I G N P R I N C I P L E S
D E S I G N S Y S T E M + L I B R A R Y
Color styles created using YouTube's core color palette
Text styles created using YouTube's web and mobile sizing guide
Elements were grouped based on function which also helped with naming, e.g. icons and selection controls were utilized in the dropdown which was further divided into types or state. A condensed mobile version was also created.
Components and variants were created using the elements, e.g. the individual icons, dropdown and input elements made up the menu and filter components across each category
Where extra guidance was required other than the annotation on the pages, notes were added in the component description for documentation
Goal: Creator finds potential partners by applying the Services, Locations and Languages filters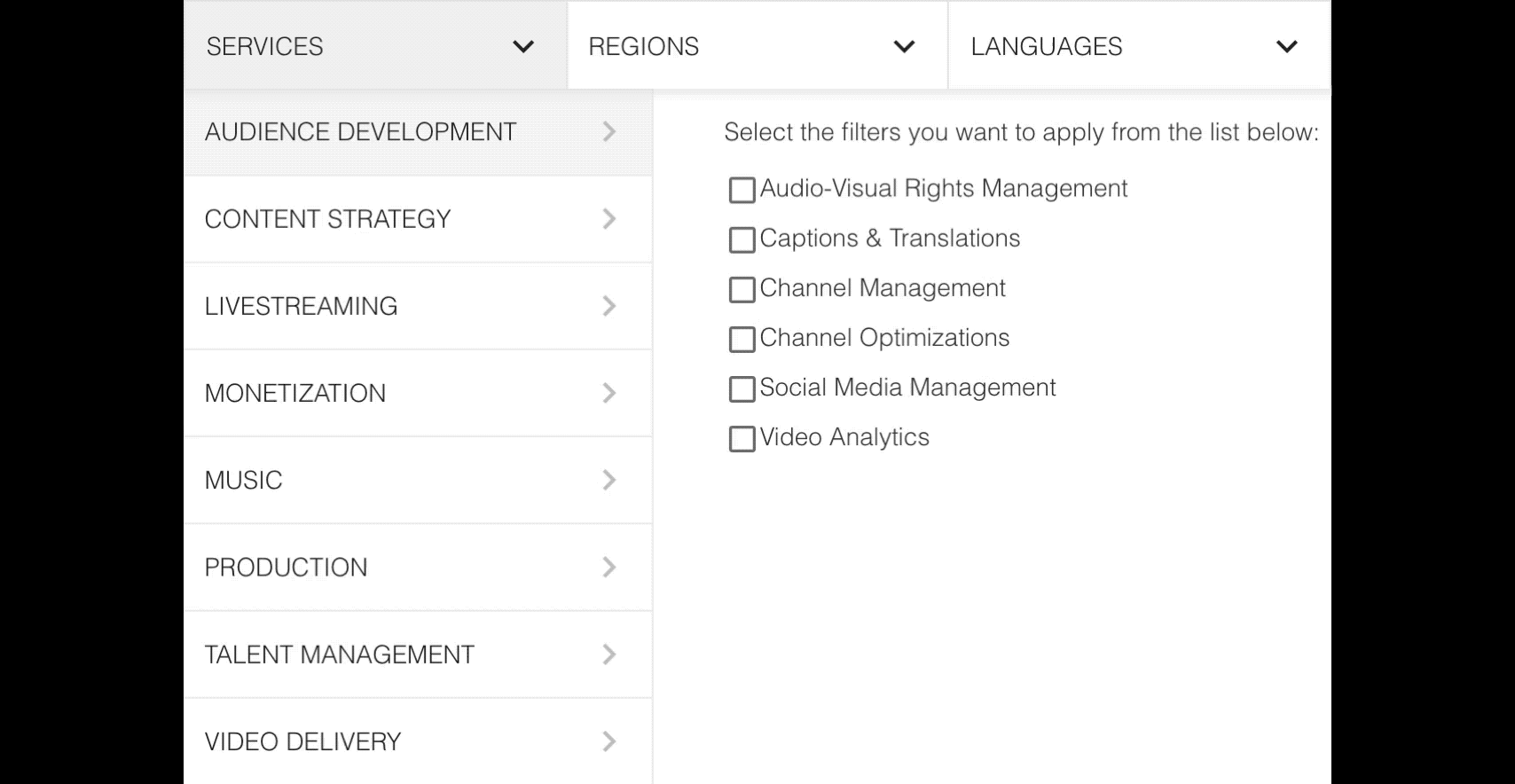 Very concise list of service filters
Tooltips to give
users more information about the service
Option to search by Region and Country
Checkboxes to facilitate multiple selections
Languages listed in alphabetical order for an efficient search
Larger titles in YouTube Sans
Logos masked within a rectangle instead of a circle
Subdued previous and next arrows
Profile introduction with a basic bio
Overall, cleaner and more flexible layout with sections that can be moved around easily
Prominent sections using subtle dividers and titles in YouTube Sans
Reordered sections for a more sequential user flow
Better placement of footer on the page
Ability to change profile language
Goal: Partner signs in to create or edit profile
Tooltips to help new partners better understand the category
Page layout that mimics the Profile page
Limited dropdown options to reduce page length. Scrollbar to view all
Restructured page following the sections from the Profile page